Investor Meeting Highlights
October 18, 2018
I think for the first time ever in our 10 year history we had four ventures present this morning (Thursday October 18) at our regular monthly SWO Angels Investor Meeting. As a result we kept the agenda tight and everyone responded with great engagement.
All four also presented earlier this week to our angel group Alliance partners, Golden Triangle Angel Network (GTAN) and Angel One Network. Now we will assemble the interested members of all three groups into coordinated due diligence and possible syndicated investment.
Snapshots of the ventures are included below. Deeper dives with company principals are also scheduled as noted – details of location and dial-in to be provided separately, or on request.
Investment Update: Due diligence is well underway with last month's presenters Chatterhigh and ColdBlock Technologies, with Chatterhigh being led by SWO Angels.
Event Update: Our next Investor Meeting is scheduled for Thursday November 22. Earlier that week, before GTAN's Investor Meeting on Tuesday November 22, they are hosting a Lead Investor Course being presented by Angel One. Please let me know if you are an accredited investor and interested in attending either or both.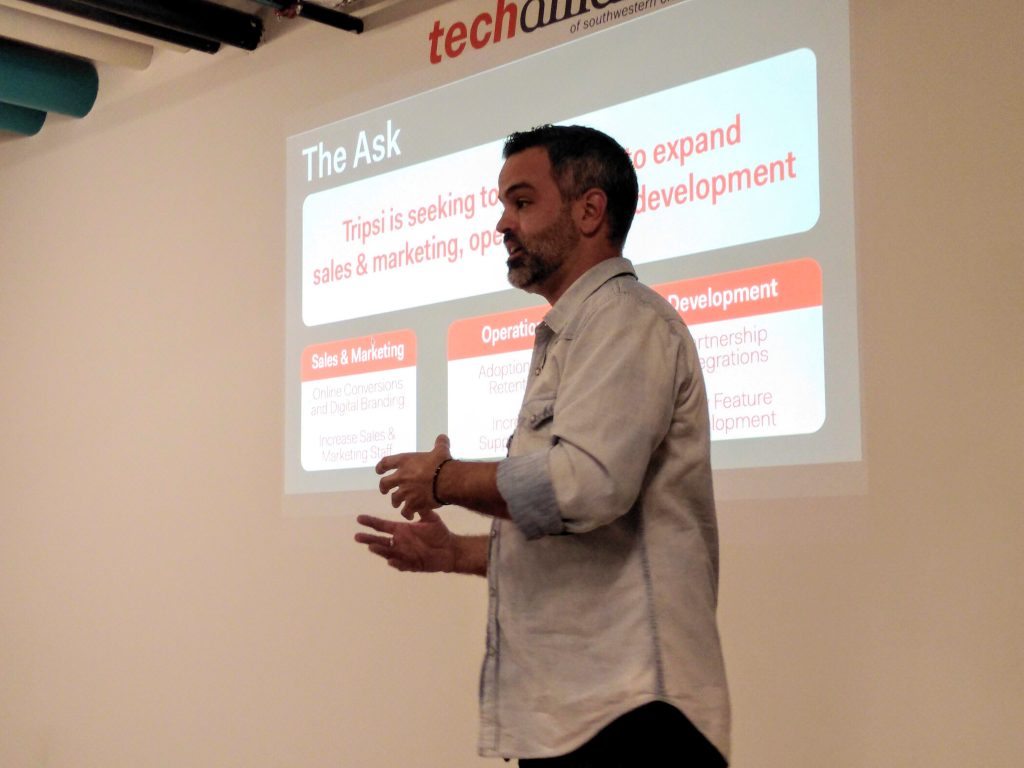 October Presenting Companies:
Tripsi's
mission is to make educational travel as easy as individual travel. With features designed to streamline the end-to-end process of procuring, planning, promoting and collecting funds, Tripsi eases the burden of trip planning and risk management for teachers, administrators and school boards. Tripsi's solution for School Boards allows them to leverage their buying power to get the best value on educational travel.
Deeper dive: Monday October 29
---
SensOR Medical
provides a digital sense of touch in minimally invasive and robotic surgery, robotics, automotive, and aerospace. This sense of touch is provided by ForceFilm: their patent-pending, robust force- sensing film technology. Surgical force sensing alone is a USD$5.8B- $7.8B market with the opportunity to expand to enable the next gen robotic assembly, robot-human collaboration, haptic and human- machine interfaces, and robotic nervous system.
Deeper dive: Tuesday October 30
---
Value Connect's
software package eliminates originators from choosing their real estate appraiser, ensuring unbiased, independent and compliant reports. Reports include property photos, graphs, and a streamlined flow of information. But they're not just beautiful. Value Connect Smart Appraisal Reports™ are more accurate thanks to built-in validation tools that QCs the report before it's sent to the lender.
Deeper dive: Friday October 26
---
BrainFx
intelligently unlocks the way your brain functions for real life. BrainFx delivers unique digital neurofunctional assessments for detecting milder/early dysfunction from brain disorders, mental illnesses, & chronic/neurodegenerative diseases. It compares patient performance to thousands in our Living Brain Bank(TM) assisting to develop targeted & personalized care plans. Assessment profiles can match to beneficial therapeutic strategies.
Deeper dive: Friday November 2